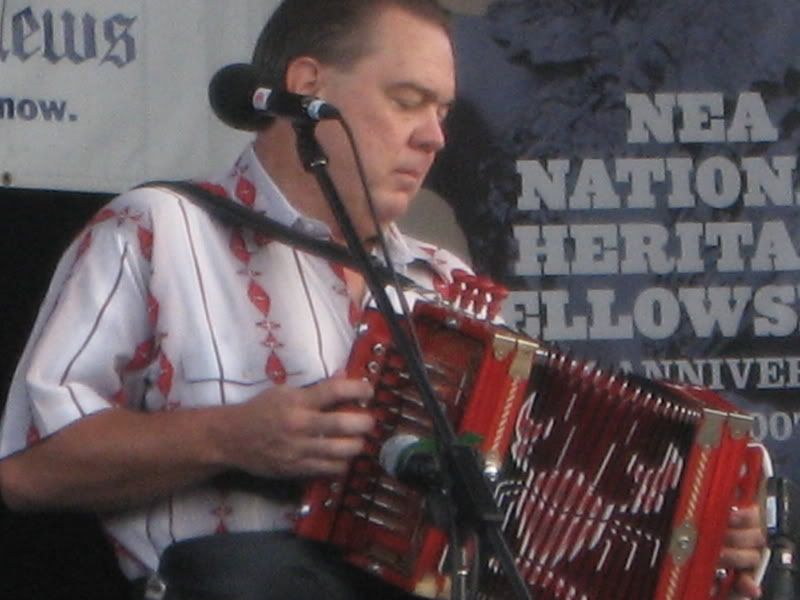 Our family has enjoyed attending New Bedford's
Summerfest
and the
Lowell Folk Festival
since we moved to Boston (almost) ten years ago. This year, for the first time, we attended the
American Folk Festival
in Bangor. As it turns out, this year our favorite Cajun group, the
Bruce Daigrepont Cajun Band
was making its only appearance in the northeast quarter of North America there. Over the three days of the festival, we caught all three performances of the BDCB and the accordion workshop Bruce participated in. We also got to chat a bit with both Bruce and with
Gina Forsyth
(the band's phenomenal fiddle player).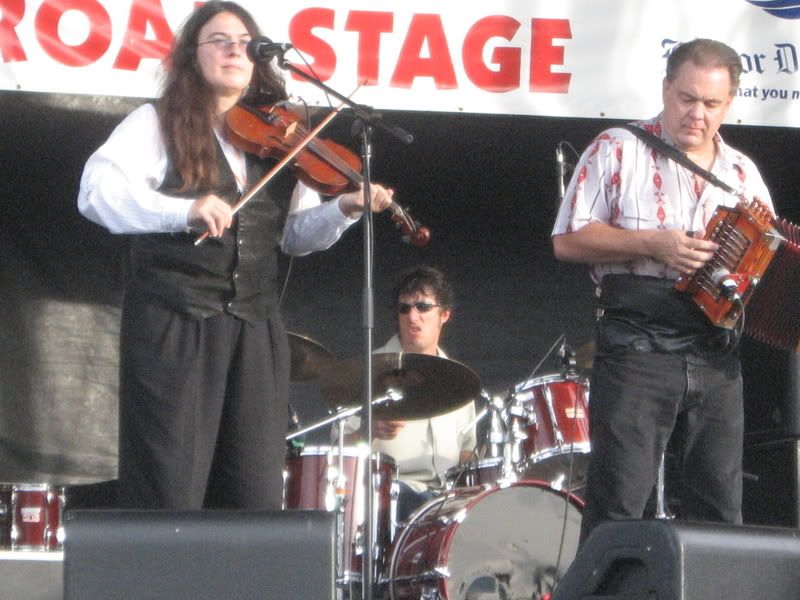 Of course, lots more went on at the festival -- so much so that there were some groups that we never got to hear (except briefly in passing). Even so, we heard the Dixie Hummingbirds, two Eskimo throat singers (Nukarik), a band led by the son of a blues guitarist we used to hear long ago in Chicago (Bernard Allison), a group of "New Orleans Indians" (Big Chief Monk Boudreaux and the Golden Eagles), a Quebecois dance music group (Raz de Maree), a Finnish-American kantele player (Wilho Saari), a Polish-American accordion virtuoso (Gary Sredzienski), a group of retired menhaden fishermen who sang the songs they once relied on to coordinate their work (Northern Neck Chantey Singers), a Lebanese-American instrumental group (Nadeem Dlaikan & Friends), a Southern acoustic blues guitarist (Larry Johnson), an Irish-American group (The Green Fields of America) and a guitar-playing coroner from Kentucky and his son (Eddie & Alonzo Pennington).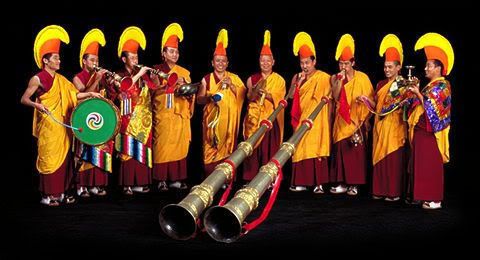 Perhaps the most amazing event, a group of
Tibetan monks
(whose monastery now has a branch in Atlanta) who sang and chanted, played instrumental music and did danced (one featuring a "snow lion" and another a couple of skeletons).
Also worth noting, the festival had a wide array of eating places -- and all we tried were good ones. The turn-out (and enthusiasm) was phenomenal. We might go back next year -- even if Bruce and his band isn't there.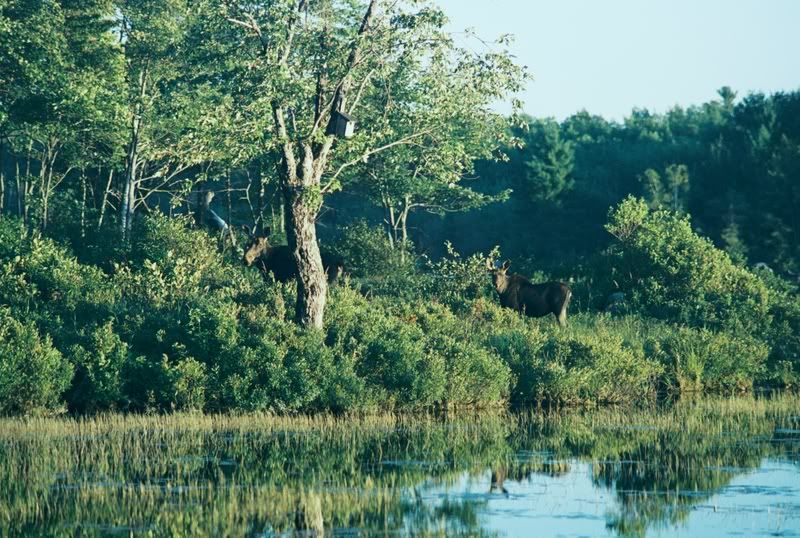 A couple of years ago, when visiting New Brunswick (to see Bruce Daigrepont perform -- and to explore a new corner of the continent), we were disappointed by the fact that we didn't see a single moose. Despite going to all the right sort of places at the right sort of times, we saw none.
This year, we decided to place ourselves in the hands of professionals. Our guide (Vicki, a professional wildlife photographer) scoured the roads of Baxter State Park and surroundings -- and we managed to see one senior male (at a distance), a mother and her (not very small) 5 month old baby, and a young adult male.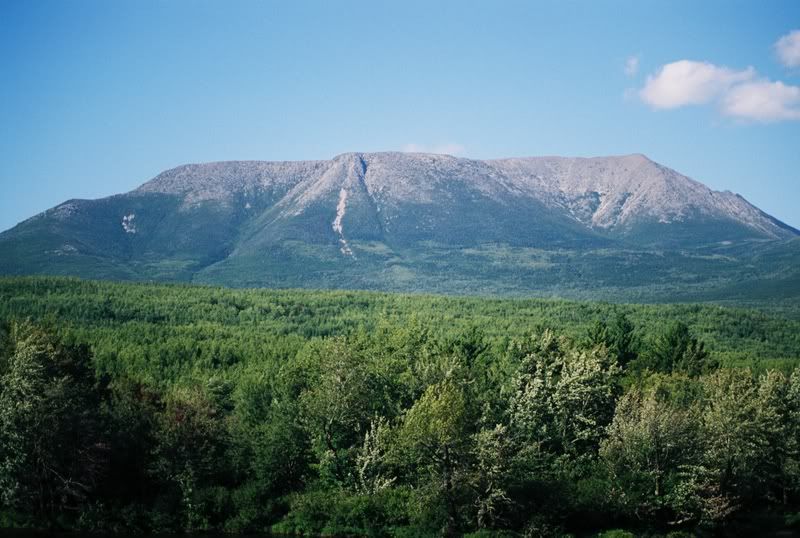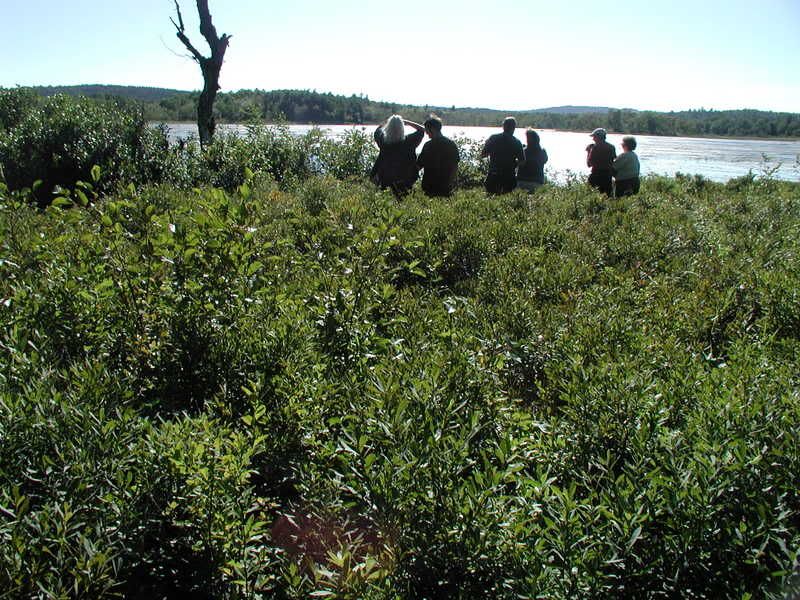 Most photos courtesy of Michael James Kerpan