Shen nu / The Goddess
(WU Yonggang, 1934)
This film about a Shanghai prostitute's struggle to raise her son might well be China's greatest silent film.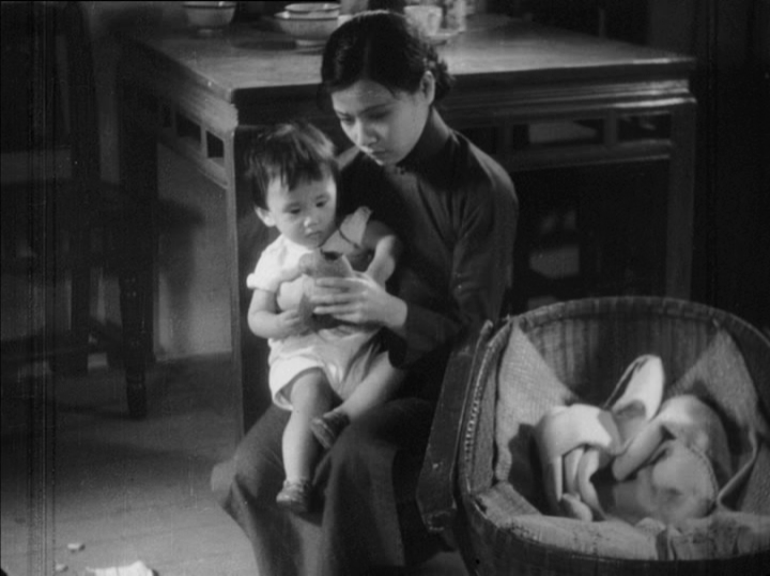 Wu had spent a number of years working in Hollywood, and then returned to make films in China. This film was the first one he made after his return. China's first star actress, RUAN Ling yu, plays the central role here -- and easily demonstrates why she was the leading actress of China -- until her suicide at age 24, a year or so after this film was made.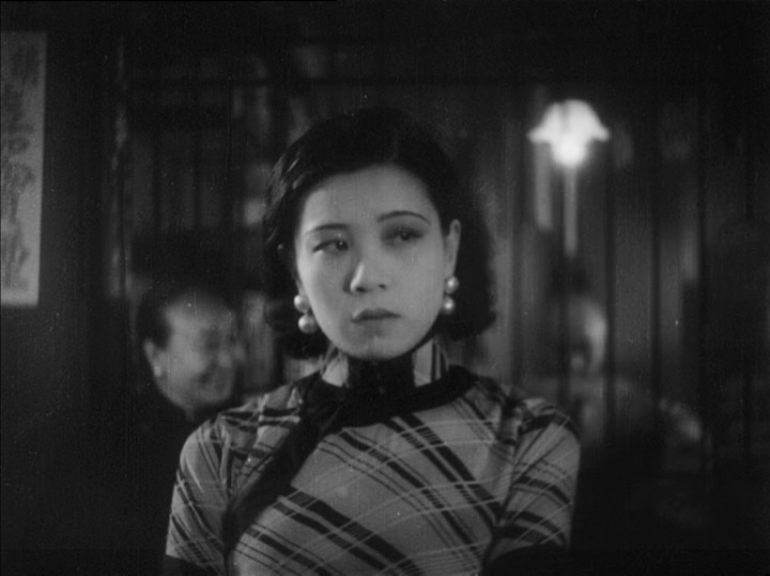 The film provides no real back story. It starts with Ruan as a single mother, struggling to care for her child, and dependent on the good will of a neighbor to care for her infant after she leaves him alone at night, while she goes out to ply her trade.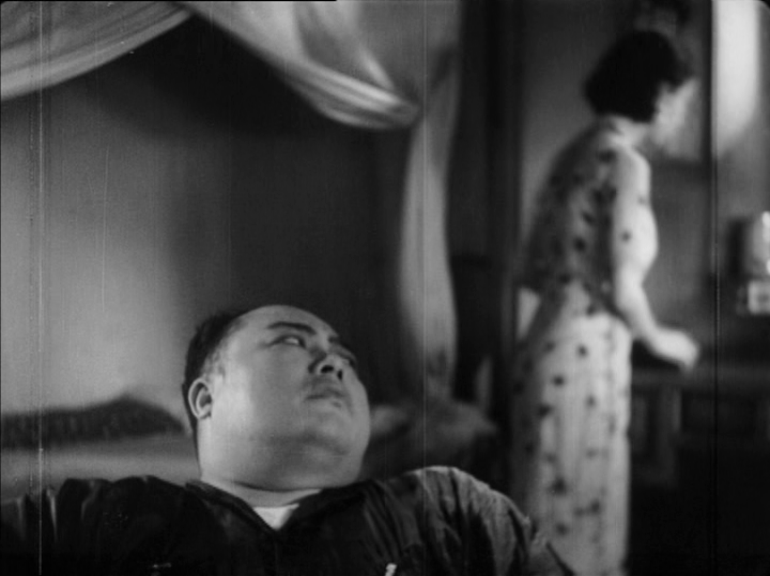 Her life is complicated further when she falls under the control of a gangster. When her son grows old enough to go to school, she is overjoyed to get him enrolled. Perhaps because he does well there, mothers of other children complain about the presence of a prostitute's child at the school.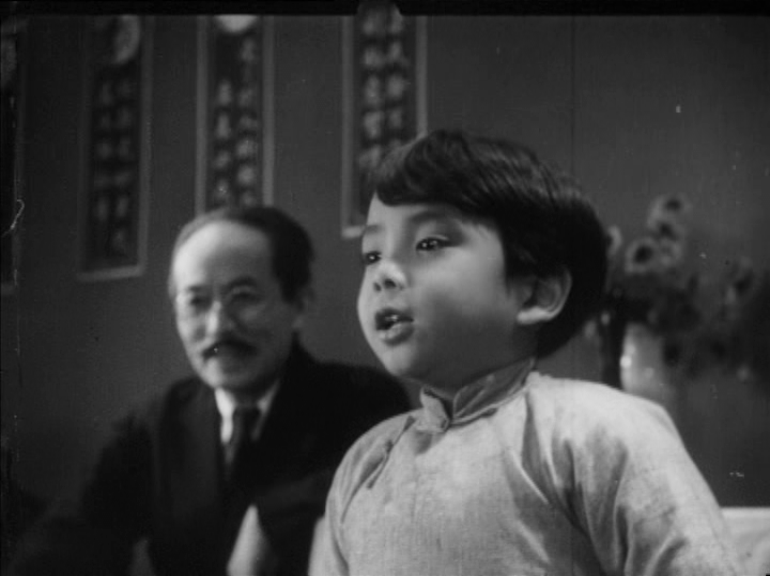 Although the school's principal is impressed with her determination to get her son a proper education, he is outvoted by his colleagues. He resigns in protest, and the boy is expelled. Ruan, now desperate to leave Shanghai, discovers her gangster oppressor has stolen her little cache of savings. When she goes to demand return of her money, he assaults her.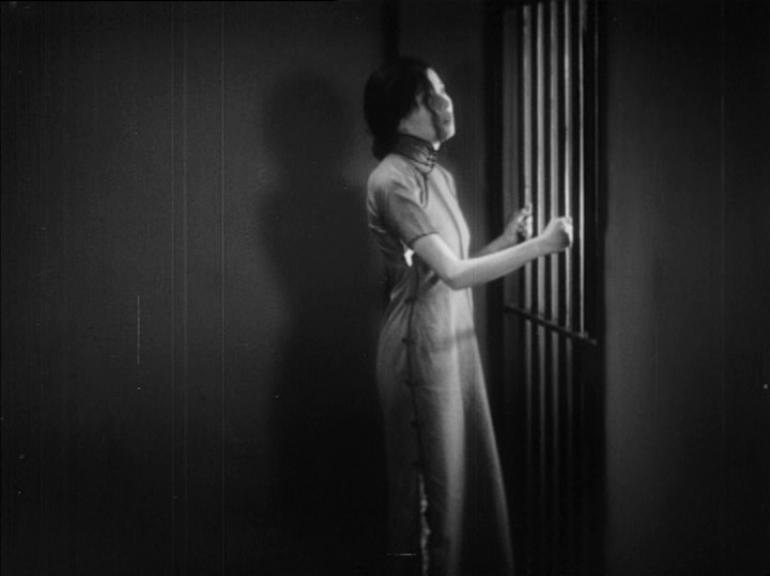 Goaded beyond endurance, she attacks him, causing his death. The retired principal visits her in prison -- and tells her he has decided to adopt her son in order to ensure he gets the education he deserves. Ruan agrees, and urges him to help the boy forget her existence, feeling that his chance for happiness and success can only be lessened by memories of his past (and her sad circumstances).
Wu presents this film in a straightforward and realistic fashion. Insofar as there are melodramatic elements, these arise from the story itself. Performances are understated, rather like those in the realistic films of 1930s Japan.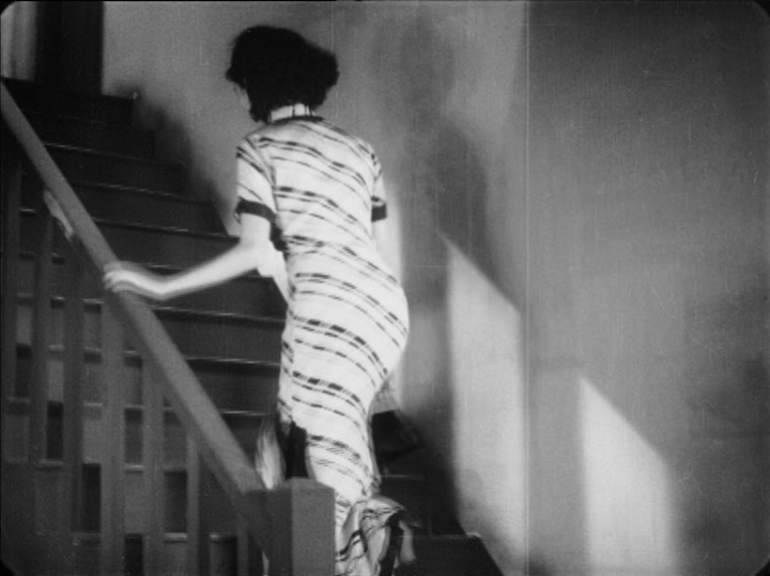 It does not appear that Wu was directly influenced by these other Asian films, rather he simply seems to have adapted Hollywood methods in much the same way as his Japanese contemporaries. Other Chinese films I've seen from this period do not show quite the same level of cinematic sophistication (but I've not yet seen any other films by Wu).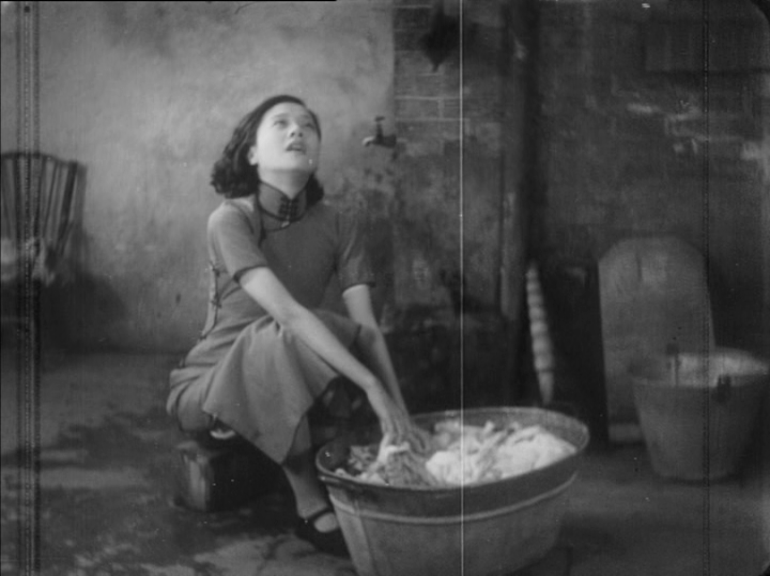 This film has been lovingly restored (though it still shows its age) and released as part of a set (published by the University of Hong Kong) that also includes a book about Ruan Lingyu. the set is a must have item for any fan of Classic Asian cinema -- and can be ordered from the
San Francisco Silent Film Festival
and the
University of Washington Press
.
More pictures:
http://i9.photobucket.com/albums/a59/mkerpan/china/goddess/shen01.png
http://i9.photobucket.com/albums/a59/mkerpan/china/goddess/shen07.png
http://i9.photobucket.com/albums/a59/mkerpan/china/goddess/shen10.png
http://i9.photobucket.com/albums/a59/mkerpan/china/goddess/shen11.png
http://i9.photobucket.com/albums/a59/mkerpan/china/goddess/shen12.png
http://i9.photobucket.com/albums/a59/mkerpan/china/goddess/shen16.png
http://i9.photobucket.com/albums/a59/mkerpan/china/goddess/shen17.png
Kimi to yuku michi / The Road I Travel with You
(Mikio Naruse, 1936)
I have now seen several dozen unsubtitled Naruse films --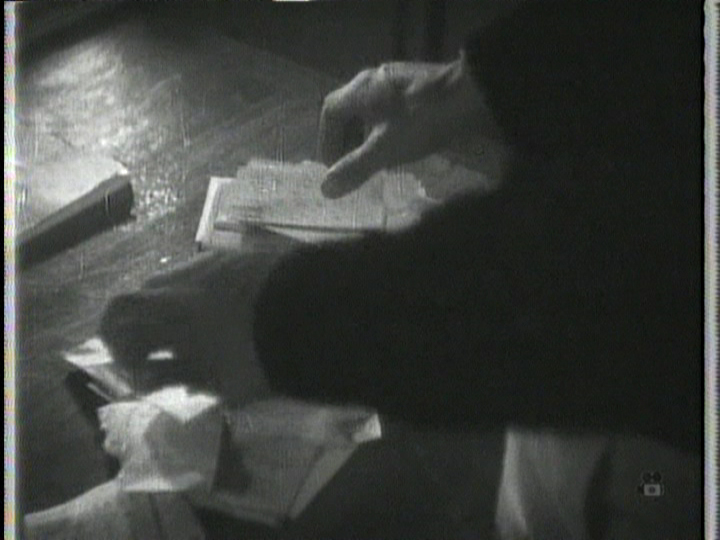 and have been able to follow almost all of them them reasonably well (especially when I managed to find a useful synopsis somewhere). With this film, alas, I must admit that I can't fully decipher many of the details. To be sure, I can figure out the general outline, but even with the assistance of the brief plot synopsis in
Narboni's book
on Naruse, much remains fairly opaque.
The problem here is that, in this film, Naruse does a lot more telling than showing.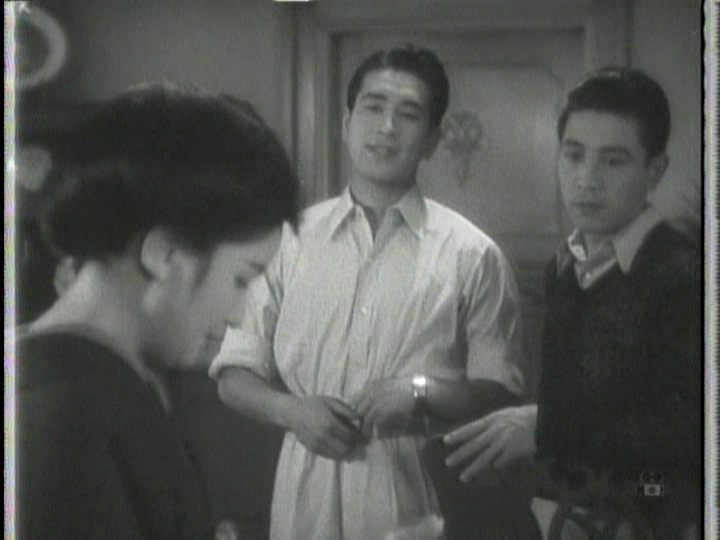 While it is not a bad-looking film by any means (other than a couple of awkward combined pans and tilts), most of the plot movement is purely dialog-based. It comes across as much more like Cukor than Naruse. It doesn't help that the film seems to have been caat with members of Toho's B Team; the only familiar face here is that of Kamatari Fujiwara. Mind you, the performances aren't bad, but neither are they particularly inspired.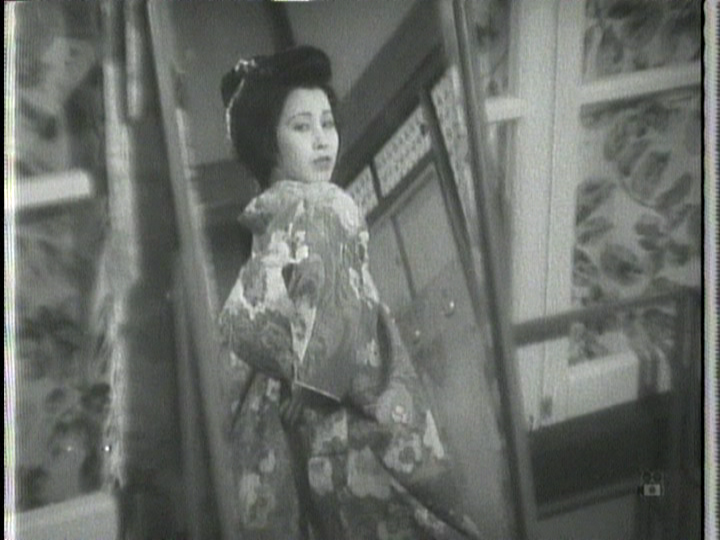 In case one is curious, the plot centers on the two adult sons of a former geisha, who live with their mother in a seaside home (which had been given to her by a former patron). The elder son, who has a rather prickly relationship with his mother, is in love with the older daughter of a once well-to-do neighbor (Fujiwara).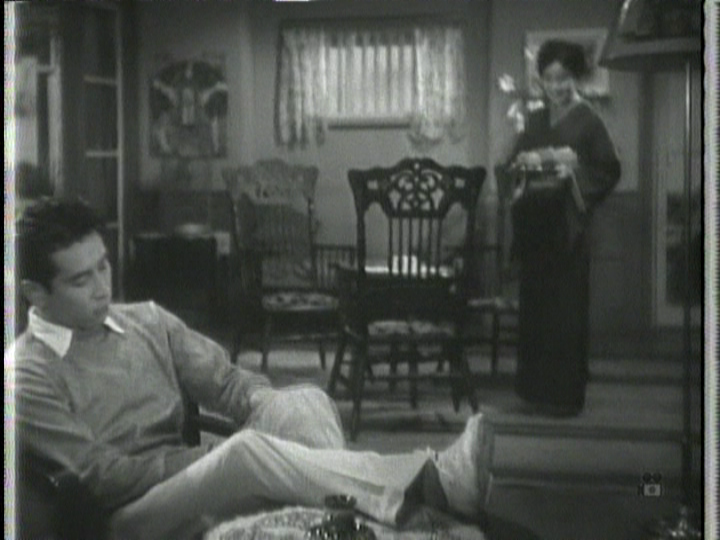 Unfortunately, financial reverses have caused Fujiwara to arrange for his daughter to make a more financially advantageous marriage. After her marriage, the new bride makes use of a classmate (an archetypal
moga
, i.e. "modern girl") to communicate with her true love -- and the younger brother finds this bold young lady rather interesting.
Things go awry, the older brother dies in a car crash (accidental or suicide) -- and, following his funeral, his true love drowns (nothing shown, only mentioned in dialog). The parents of the dead children seem to blame the go-between, and the younger son finally gets fed up with his mother.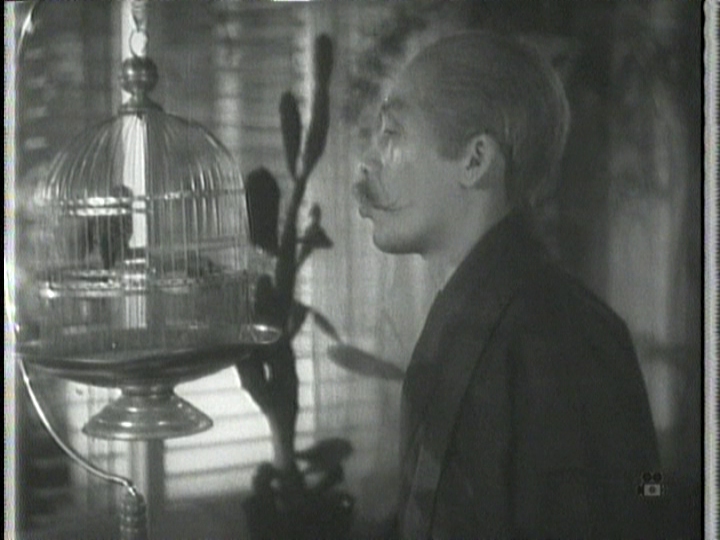 Mind you, there are plenty more complications in the plot -- like Fujiwara's younger daughter also being married off, and negotiations over the younger brother's "adoption" by a family without an heir to take over its family business. For a film lasting only a bit more than an hour, this has an immense amount of plot. At least provisionally,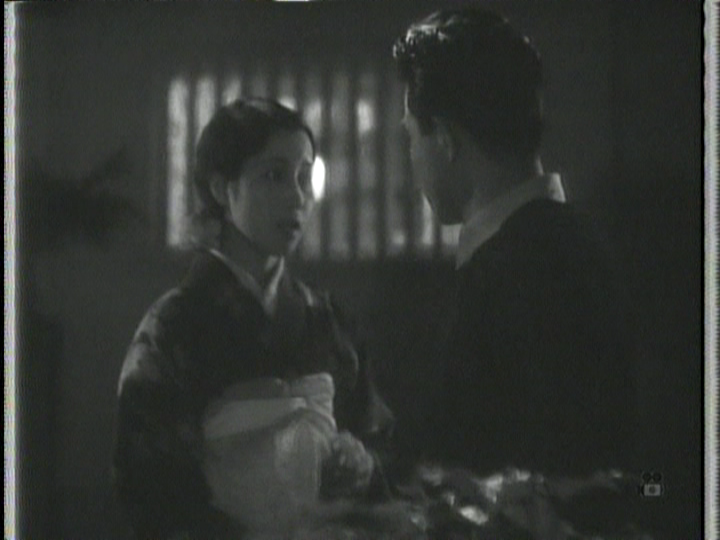 I would rate this near the bottom of the list of Naruse films I've seen (59 so far). Only the even more complicated (and less visually interesting) 1950
War of the Roses
struck me as less satisfactory. All the same, until I fully decipher more of the copious dialog, I will have to leave open the possibility of at least a slight upward adjustment for this film.
Okuni to Gohei / Okuni and Gohei
(Mikio Naruse, 1952)
This film was one of Naruse's rare forays into samurai film territory.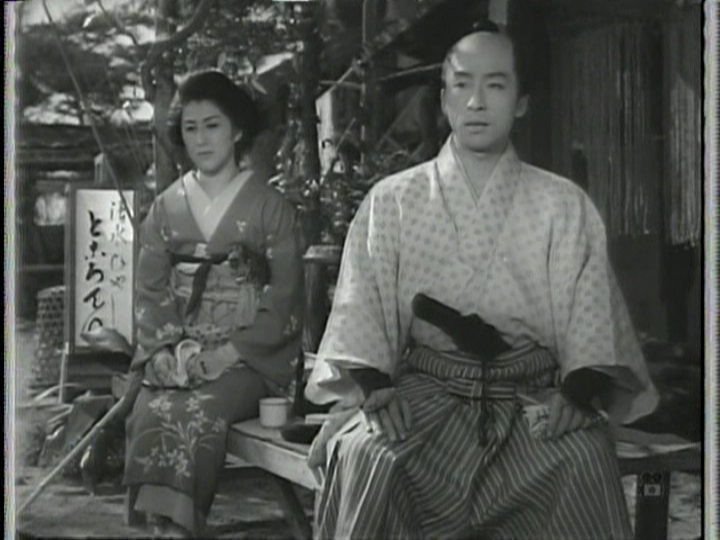 Based on a
neo-kabuki play
written by Junichiro Tanizaki in the early 1920s, this turns out to be about as Naruse-esque as a samurai film could conceivably be. It is almost totally devoid of "action", devoted instead to exploration of the personalities of the central characters and the nature of their relationship. And, of course, the protagonists are trapped in an ultimately untenable situation.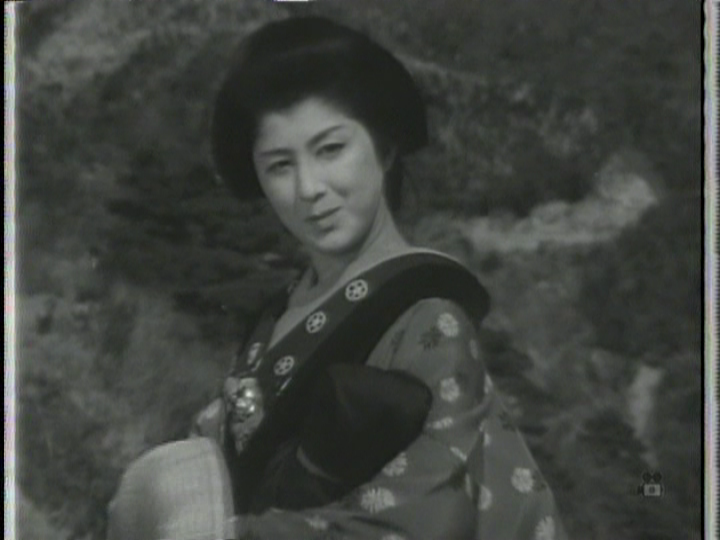 Okuni (played by Michiyo Kogure) is the wife of a samurai, who was murdered (in an underhanded fashion) by a former suitor, Tomonojo (So Yamamura). So she and one of the retainers of her husband, Gohei (Tomoemon Otani, a famed kabuki artist, during a brief stint in the movies) go seeking the murderer, planning to seek revenge.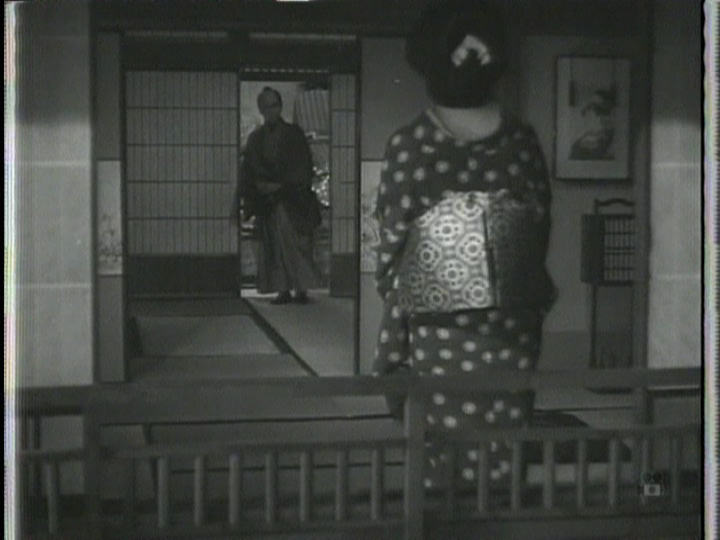 However, the two have no real clue as to where to seek Tomonojo and their quest seems endless. After Gohei nurses Okuni through a lengthy illness, the distance between mistress and servant is erased. At this point, Okuni begins to be more and more troubled by a seemingly ever present wandering flute player -- whose music seems to have followed the pair everywhere.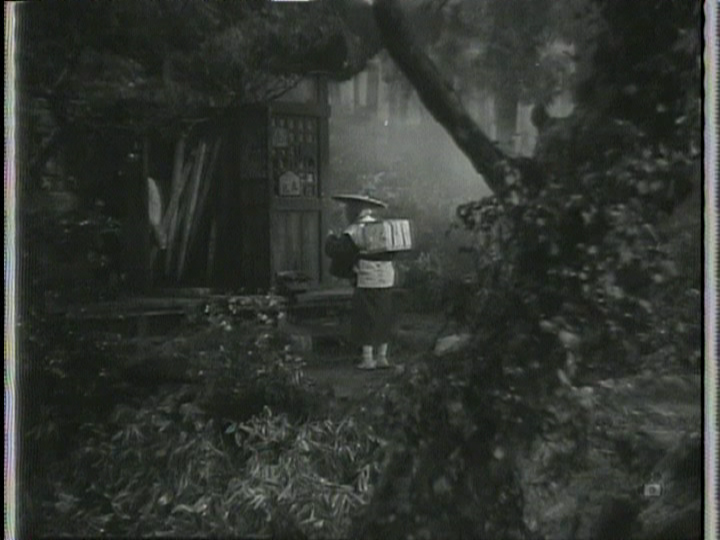 She fears that perhaps it could be Tomonojo is following them, trying to take them surprise -- but when finally seen, the musician appears to merely be a wandering priest. When the pair set out on the road again, they encounter the priest, who turns out to be Tomonojo in disguise after all. But rather than lying in wait to kill them,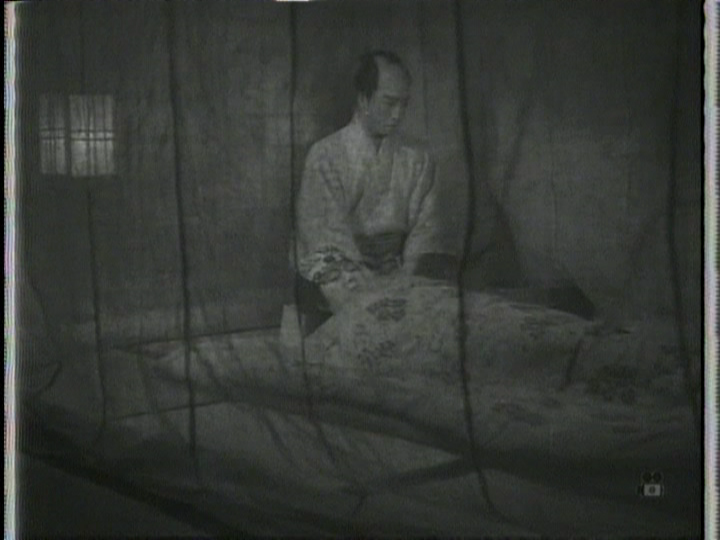 it turns out that the lovelorn ex-suitor only wanted the chance to get an occasional glance of Okuni. When Okuni and Gohei attack him, he makes only a feeble attempt at defense -- as he never had any interest in (or skill at) martial arts. Wounded, he tries to goad Gohei into killing him --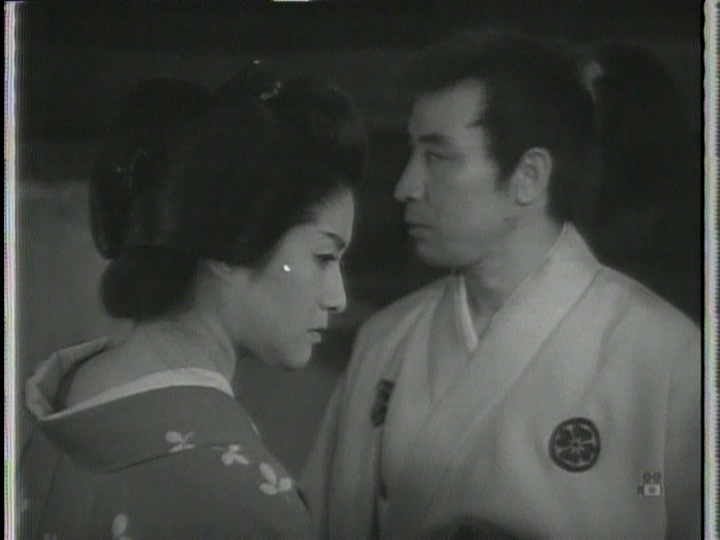 first by congratulating him on winning the favor of Okuni and then by poisoning the well of the pair's new-found love, by recounting the intimate conversations he had once shared with Okuni. Having finally finished off the unfortunate Tomonojo, Okuni and Gohei (now haunted by the deed he has done) set off to report their "success" to the clan of Okuni's dead husband.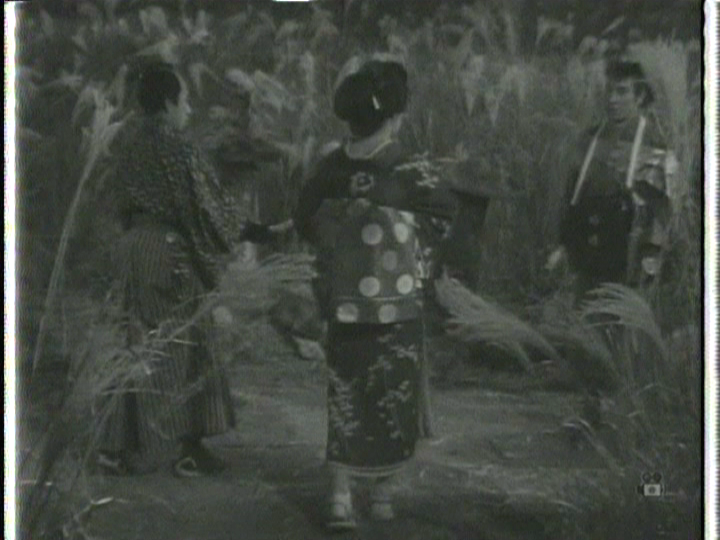 For all its lack of action, this is a very good looking film -- shot by Kazuo Yamada at the outset of his career (he would later do a lot of work with Inagaki and Taniguchi and also shoot
Samurai Rebellion
for Kobayashi). Curiously, in this film Naruse returned (for the first time in many years) to the practice of dollying in and out that he had favored in his films of the mid-1930s (albeit in a less obtrusive manner than in those earlier films).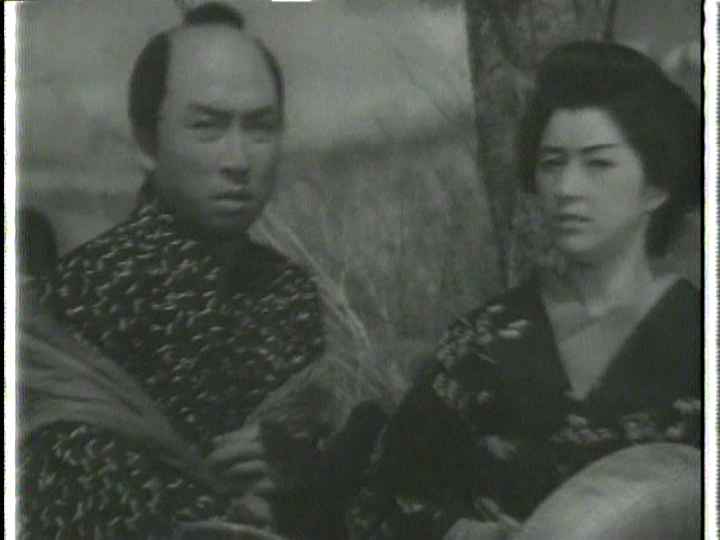 Not an "essential" Naruse film, I suppose, but also not a negligible one. Like many of the other rare Naruse films dismissed in a sentence or two in Audie Bock's book on Japanese directors, this proves to be both interesting and enjoyable. Alas, I can't foresee any sort of English-subbed release of
Okuni and Gohei
any time soon.
A few more screen shots:
http://i9.photobucket.com/albums/a59/mkerpan/naruse/okuni/gohei03.png
http://i9.photobucket.com/albums/a59/mkerpan/naruse/okuni/gohei07.png
http://i9.photobucket.com/albums/a59/mkerpan/naruse/okuni/gohei09.png